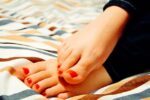 Your feet can suffer from several afflictions, including dry feet, athlete's foot, and fungal infection. These may be irritating, and may often require immediate treatment.
Neem oil can be used to treat feet. It is particularly good for dealing with dry feet. It is moisturising, can help prevent infection, and also prevent fungal infection. Neem oil can also be used as a foot scrub to exfoliate feet.
The following recipes may be helpful:
USING NEEM OIL TO TREAT DRY FEET:
Mix 10-12 drops of neem oil to a carrier oil (such as coconut, olive, or almond oil). Massage into your feet once a day until you see an improvement.
USING NEEM OIL AS A FOOT SCRUB:
Mix 50g course sea salt, 200g granulated sugar, 2 tbsp coconut oil, and 2 tsp neem oil together and store in a glass jar. Massage a small amount into your feet. Once applied, rinse off with water.
USING NEEM OIL TO TREAT ATHLETE'S FOOT:
As athlete's foot is a fungal infection, neem oil can be used to treat it, as it has anti-fungal properties. Apply 2-3 drops of neem oil, twice per day, to the whole foot twice a day. Massage into your foot until the oil is fully absorbed. Repeat daily, until the infection fully clears up.
Discontinue if irritation occurs.